♥♥♥♥♥♥♥♥

This is a 7 inch bracelet. $$$$ Please aware and make it sure

♥♥♥♥♥♥♥♥
A beautiful Bracelet Wrist size 7 inch with a personalized Name on Rice Charm - you can personalized on your way.- we'll make it for you.
A Great Gift for Special Days or Someone you care!
Please take a few steps to finish your customize Name on Rice Jewelry.
You must provide us via email as follows
1. What name do you want me to write on a rice. ( One side or both side -up to 6 names - no extra cost to write both side)
2. Up to 11 character per one side: space will be counted one character as well.
3. You may choose your favorite colored oil. please look sample photo below.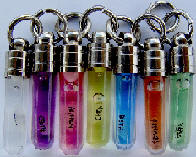 ----If you didn't choose oil color, I'll use a clear oil (recommended)
Oil colors: (Clear - no color), (Baby pink), (Purple), (Blue), (Red), (Yellow), (Green)
Materials:
Metals Type:
Zinc Alloy
Vial:

Glass or plastic .
A gold plated lead free bracelet.
Clasp Type: No
clasp. Turn both ends 180 degrees counter-clockwise, then insert and turn back into place.
It takes 1 to 3 days to ship after received your personalize information.
Return
We accept return.
If you are not satisfied with our products, you may return within 14 days after the date of receipt.
We will refund you the full payment (price and original shipping and handling).
You are responsible for paying the return shipping costs. .
We offer timely customer support to all buyers.
If you contact us, I will response to you within 24 hours.
Thank you